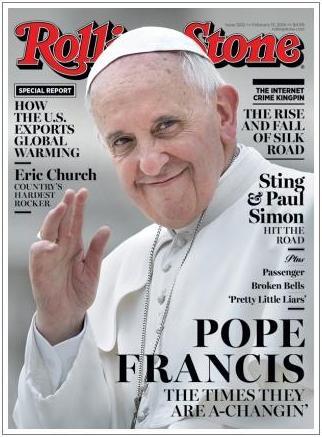 Breitbart.com:
Imagine, on Super Bowl Sunday, if a sports reporter piped up and said things like, "Hey, since it's called football, can you touch the ball?" or "Hey, what's with the blocking and tackling? That's kind of mean," or "Hey, touchdowns, those are important, right?"

Yeah, that wouldn't end well.





No one would tolerate a sports reporter that showed that level of ignorance about a subject he's chosen to address, but when it comes to the Catholic Church in general and the pope in particular, the under-informed just let their freak flag fly.



Contrary to popular opinion—and the attempts of the mainstream media to portray him as such—Pope Francis is neither a politician nor a pop star. But all popes are public figures

and, as such, get a full range of news coverage, from adoration to condemnation (some get both in one papacy).





Normally, the Vatican, which exists in a head space unlike any other, doesn't get visibly upset about the negative coverage, unless it's seriously inaccurate (hence the eventual

removal from the Vatican Web site

of the Pope Francis "interview" with octogenarian La Repubblica editor Eugenio Scalfari, who recreated the chat solely from memory, with decidedly mixed results).



When Time magazine named Francis its Person of the Year for 2013, the Vatican acknowledged it, essentially saying, "Yeah, of course you picked him. Duh." But it was left to bloggers, Twitter, and other media outlets—including, interestingly enough, Politico—to note errors in Time's bio of the pontiff (it originally cited his "rejection of church dogma," which hasn't actually ever happened), prompting a rewrite.

The Vatican's general attitude seems to be gratitude for the nice or neutral coverage and a resigned indifference to the negative and unusual. When gay magazine The Advocate named Francis its Person of the Year in December, the Vatican was unruffled. Of course, it helped that the article was well-researched and well-written. While the writer obviously didn't agree with all of Francis's (and the Church's) position on issues relating to persons with same-sex attraction, at least he understood them and was able to find some (accurate) common ground.

For its February issue, Rolling Stone put Francis on its cover—months after featuring a Tiger Beat-worthy photo

of doe-eyed Boston Bombing terror suspect Dzhokhar Tsarnev—accompanied by a long feature piece featuring a lot of purple prose and factual errors about the papacy.

For example, writer Mark Binelli refers to the pope as "supposedly infallible," which displays a complete lack of knowledge about the meaning of papal infallibility, answers about which are just a Google away. And he refers to Jesus as a "homeless proto-hippie."

Don't worry, there's more.



At one point, for reasons that seem more related to the writer's inner life than that of his subject, Binelli compares Pope Emeritus Benedict XVI's appearance to that of "Nightmare on Elm Street" character Freddy Kreuger, saying, "he looked like he should be wearing a striped shirt with knife-fingered gloves and menacing teenagers in their nightmares."





Apparently no one told these Catholic teens at the 2005 World Youth Day gathering in Cologne, Germany, that, upon seeing Benedict, they should run for their lives.
RELATED:
9 ridiculous claims in Rolling Stone's cover story on Pope Francis