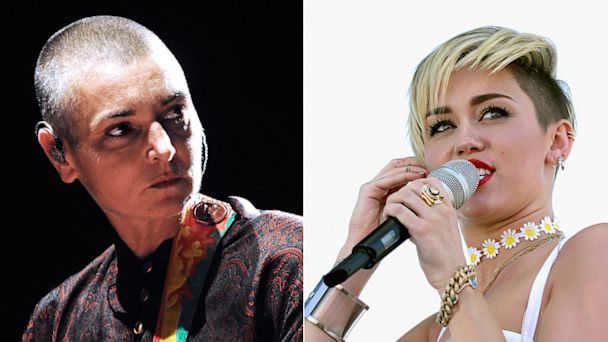 EOnline.com
:
Matt Lauer didn't go easy on Miley Cyrus when she appeared and performed during Today on Monday, Oct. 7. The co-anchor asked the pop star about everything from her risqué photo shoot with Terry Richardson to her war of words with Sinéad O'Connor—and Cyrus maintained her composure throughout the interview.

The TV journalist began by asking Cyrus about the constant controversy surrounding her name. "Are you surprised by the attention you're getting right now?" Lauer asked.

"Not really," the singer shrugged. "I mean, it's kind of what I want. I'm an artist, so I'm hoping that I get a little attention or my record sales might be a little sketch."

Lauer then asked Cyrus if her now-infamous MTV Video Music Awards performance was intentionally meant to shock viewers. "I don't ever really plan to offend people, but sometimes that just happens because I think people, they're not open to what they don't understand," the performer said. "But that's why when I'm singing for my fans, because they're all really young so they understand what I'm doing."

"Did it go exactly as you planned?" Lauer asked.

"It went exactly as I planned," Cyrus, 20, answered. "I mean, it's a month later and we're still talking about it, so it definitely went as planned."

"We talked about the performance, and obviously a lot of it was very provocative. I'm never going to go to a sporting game and look at a foam finger the same way...Add to that some of the photos I've seen of your recently on the internet. You had the naked shot on the video for 'Wrecking Ball.' It's very clear that you are...attempting to navigate tricky territory right now," Lauer said. "A lot of people have tried this in the past between child star and adult performer. Is it harder than you thought it would be?"

A confident Cyrus replied, "Nah, because this is just, like, who I am. I think it's only hard if you're trying to be something you're not. Being who you are is really easy if you're really true to that."

Lauer, 55, continued to grill the former Hannah Montana star, asking, "Is this a phase? Is the sexual side of you that we're seeing a lot of right now something that's going to be around for a while and then you move onto something else?"

Liam Hemsworth's ex-fiancée seized the opportunity to make a joke at Lauer's expense. "I heard when you turn 40, things start to go a little less sexual," she began.

"Don't say that," Lauer said with a smile.

"Probably around that time, I heard that's when people don't have sex anymore," Cyrus continued. "I guess maybe around then." Lauer then asked, "Do you know how old I am?"

Grinning from ear to ear, Cyrus responded, "I'm gonna guess 40." Lauer then asked Cyrus if she would do anything differently given the opportunity. "You can't change anything about it. I do a lot of things, but I can't change the past," she explained. "If I can't control it, I don't really think about it. I just live my life and I don't really think about anything."
RELATED:
Sinead O'Connor Demands Apology From Miley Cyrus