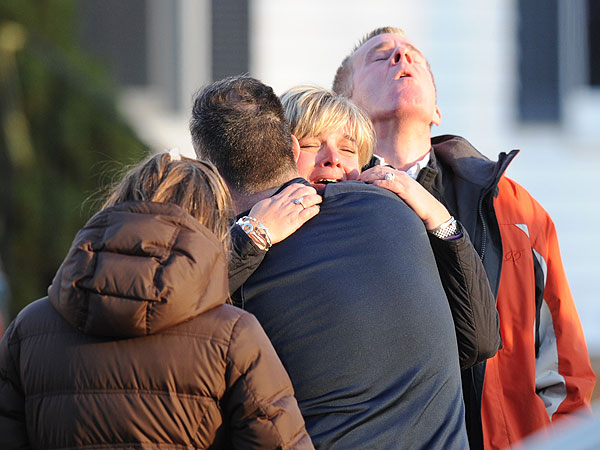 Crazy people having guns
isn't a Left or Right thing, or a Democrat or Republican thing, it's a common sense, life or death thing. Because a man who uses a gun to kill innocent children was never interested in "self-defense" or shooting some bear in the woods,
Adam Lanza
was a madman and a coward hellbent on making a name for himself in the most hellacious way possible. And he did just that. And like day follows night expect the Left to exploit this tragedy in every way possible and in return (as per usual) conservatives will return the fire with 2nd Amendment creeds ad nauseum...yunno, the usual stuff. And in the meantime
people will talk
"the good fight", but nothing will get done, crazy people will continue to have access to guns and more innocent people will die in the next tragedy...whenever that is:
Dressed in black fatigues and a military vest, a heavily armed man walked into a Connecticut elementary school Friday and opened fire, shattering the quiet of this southern New England town and leaving the nation reeling at the number of young lives lost.



Within minutes, 26 people were dead at Sandy Hook Elementary School -- 20 of them children. Among the six adults killed were Dawn Hochsprung, the school's beloved principal, and school psychologist Mary Sherlach.




The shooter, identified by three law enforcement officials as 20-year-old Adam Lanza, also was killed, apparently by his own hand.




"Stuff like this does not happen in Newtown," a tight-knit community of about 27,000 just outside Danbury, said Renee Burn, a local teacher at another school in town. In the past 10 years, only one homicide had previously been reported.




With the death toll at 26, the Newtown shooting is the second-deadliest school shooting in U.S. history, behind only the 2007 shooting at Virginia Tech that left 32 people dead.




"Evil visited this community today," Connecticut Gov. Dan Malloy said of Friday's massacre.