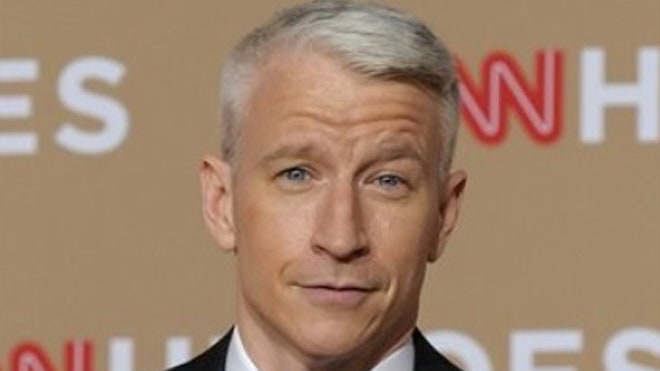 Of course, most sane people were already well aware that CNN host Anderson Cooper chooses to engage in homosexual behavior. But after being egged on and practically forced to "come out" by insane pundit/gay activist
Andrew Sullivan
, Cooper finally
chose to let the world know
that he leads a destructive lifestyle in his personal life:
Anderson Cooper revealed on Monday that he is gay, ending years of reluctance to talk about his personal life in public.

The CNN journalist wrote in an online letter that he had kept his sexual orientation private for personal and professional reasons, but came to think that remaining silent had given some people a mistaken impression that he was ashamed.

"The fact is, I'm gay, always have been, always will be, and I couldn't be any more happy, comfortable with myself and proud," he wrote in the letter, published by Andrew Sullivan of the Daily Beast.

Cooper, the son of Gloria Vanderbilt, had long been the subject of rumors about his sexual orientation. He said that in a perfect world, it wouldn't be anyone's business, but that there is value in "standing up and being counted."

"I still consider myself a reserved person and I hope this doesn't mean an end to a small amount of personal space," he wrote. "But I do think visibility is important, more important than preserving my reporter's shield of privacy."

CNN said it would not comment, and that Cooper was on assignment and there were no plans for Cooper to discuss it on the air.

Few national television news reporters have publicly acknowledged being gay, with MSNBC's Rachel Maddow and CNN's Don Lemon perhaps the best known.
Mind you, Cooper's "coming out" party shouldn't change the way conservatives and Christians feel about how he goes about his job. Unlike many of his gay peers in the media, Cooper doesn't seem to have any interest in using his lifestyle choice as a means to hop on the radical, leftwing bandwagon and dismiss journalistic professionalism for liberal lies and propaganda (in the letter for his "coming out party" Cooper made a point to note that he is "not an activist"). True Christians and most conservatives know that homosexuality is an unGodly lifestyle choice, but I doubt that Cooper (whose work has gotten his fair share of praise from both the Left and the Right) will bow to pressure from the Gay Mafia to abandon journalistic integrity. However, homosexuality
will and always be a sin
and it's kind of sad that Cooper, a likeable and goodlooking guy who could probably get any woman he wants, would allow his savage lust to willingly ignore God's will.