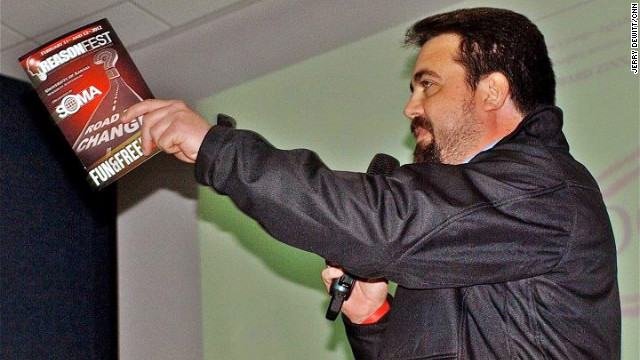 CNN.com
:
Jerry DeWitt entered the ministry when he was 17, launching a 25-year career as a Pentecostal preacher. He traveled all around his home state of Louisiana, preaching and ministering wherever he could.

All these years later, DeWitt, 42, is still on the road, and now takes his message all over the United States. But the nature of that message, along with his audience, has changed dramatically.

DeWitt is now an avowed atheist, and his audiences are made up of religious "nones," the growing number of Americans who are atheist, agnostic, humanist or just plain disinterested in identifying with a religion. Today, DeWitt preaches a gospel of disbelief.

During his speeches, he talks about the process of leaving his preacher job. "If you don't believe, then you will be like me – you'll suddenly find yourself where you only have two choices," DeWitt told a group in Johnson County, Kansas, earlier this year.

"You can either be honest that you don't believe ... or you can pretend that you do," he said. "Which is what so many people are doing and that is called faith."

The transition from preacher to outspoken atheist has not been easy, and DeWitt is trying to smooth the way for other former believers. He is executive director of Recovering from Religion, an organization founded in 2009. Its slogan: "Thousands of organizations will help you get INTO religion, but we're the only one helping you OUT."

But a relatively new effort goes a step further than his own group by focusing on helping clergy in particular. In March 2011, a coalition that includes national groups such as American Atheists, the Freedom From Religion Foundation and the Richard Dawkins Foundation helped launch the Clergy Project, which is aimed at giving doubting and atheist preachers a community in which they can talk about their disbelief.

The program's ultimate goal: to help unbelieving preachers to "come out" in real life.

The Clergy Project's key component is a private online community of active and former pastors discussing their conversions to lives of active disbelief. It lets congregational leaders come out anonymously, using an alias.

"It is important to focus on any group of people who are in a lot of pain," said Linda LaScola, a co-founder of the Clergy Project. "That is why the Clergy Project exists, and it wouldn't be growing if there wasn't a need for it."

When it launched last year, 52 clergy signed up for the online community, according to LaScola. A little more than a year later, 270 members are contributing to the message boards and connecting anonymously with one another.
RELATED:
Pew survey: Doubt of God growing quickly among millennials