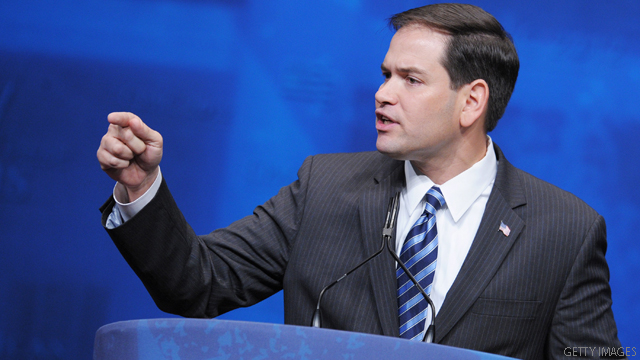 CNN.com
:
Florida Sen. Marco Rubio condemned President Barack Obama on Saturday in unusually harsh terms, calling him one the most "divisive" and "destructive" political figures the country has ever seen.

"For all the policy disagreements that we have with our president, it is hard to understate how much he inspired people across this country four years ago," Rubio said at a fundraising dinner for South Carolina Republicans.

The man who currently occupies the White House, he explained, "is a very different person."

"We have not seen such a divisive figure in modern American history as we have over the last three and a half years," Rubio said.

"They get frustrated," he said. "They can't win on their record. And so they have chosen to go down a different road, one that I think is destructive, counterproductive and very unfortunate."

He accused the Obama campaign of attempting to "pit Americans against each other" by engaging in class warfare and unfairly attacking Republicans on gender issues.

"Never have we seen such an effort to divide the American people in an effort to win an election as we have today," Rubio said.

Rubio was addressing roughly 1,200 attendees at the South Carolina Republican Party's Silver Elephant Banquet, the state party's largest fundraiser of the year.

The speech raised $300,000 for the party.
RELATED:
Marco Rubio's Past Political Vulnerabilities?