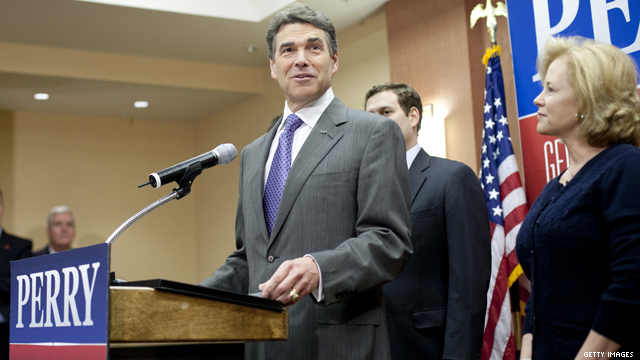 CNN.com
:
Texas Gov. Rick Perry suspended his struggling presidential campaign Thursday and threw his support to Newt Gingrich, a development that could alter the dynamics of the Republican race just two days before the tightening South Carolina primary.


"I believe Newt is a conservative visionary who can transform our country. We've had our differences, which campaigns will inevitably have, and Newt is not perfect, but who among us is?" Perry said at a press conference in Charleston, South Carolina.


Perry said "there is no viable path forward for me in this 2012 campaign."


"I have no question that Newt Gingrich has the heart of a conservative reformer, the ability to rally and captivate the conservative movement. The courage to tell those Washington interests to take a hike if that's what's in the best interest of our country," Perry said.


Shortly after Perry's speech, the former House speaker said he was "honored and very humbled to have Perry's endorsement.


"He understands exactly the mission of defending and expanding freedom and he understands that every citizen has different ways to participate," Gingrich said at a press conference in Beaufort, South Carolina.


Perry made the final decision Wednesday night and spoke with Gingrich on the phone shortly before he held the press conference Thursday morning, one source close to the Perry campaign said.


"He believes we need a conservative for president and Mitt Romney is not conservative," the source said.
RELATED:
What doomed Rick Perry's campaign