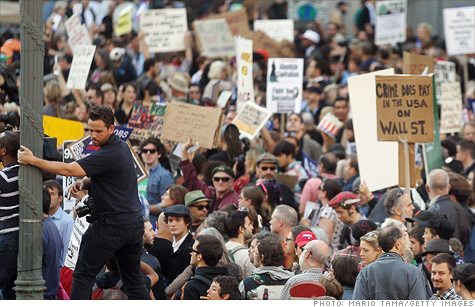 But the liberal media (esp. MSNBC) that decried the Tea Party protests supposed lack of diversity won't
speak much on this
:
Jason Woody immediately recognized a shared struggle with many of the Occupy Wall Street demonstrators: The 2007 college graduate has been out of work for two years, and it's been longer since he's seen a doctor. He also noticed something else -- the lack of brown faces on the front lines of the Occupy movement.


"When I started out here ... I realized there was not a lot of diversity out here," said Woody, who is black and graduated from Morehouse College and has camped in a downtown Atlanta park with other protesters for more than a week. "It's changed in the course of the past week. I'd like to see that grow."


The outcry against the nation's financial institutions that has swept the country in recent weeks has crossed many boundaries, including class, gender and age. But a stubborn hurdle in many cities has been a lack of racial inclusion, something noted by organizers and participants alike.


"We, the 99 percent, have to be reaching out to the cross section of the communities that we live in," said Tim Franzen, one of the organizers of the Occupy Atlanta movement. "If you come down to the park and spend a day I think you might have a hard time saying this is an all-white movement. We are reaching out, but we've got some bridges to build."
RELATED:
Progressive of Pallor on pointless parade