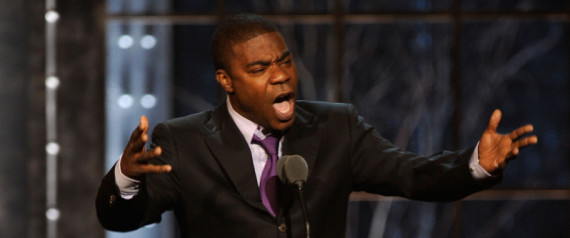 Of course, when Tracy Morgan went on national TV and talked about how Sarah Palin makes for
"good masturbation material"
, the liberal media sighed and laughed along right with him. After all, nothing beats a
good
joke about a conservative, especially one hated so much by liberals. But now Morgan finds himself in extremely hot water after making a joke about how he'd "kill his son" if he ever caught him acting gay and now the same liberal press
wants him hanged
:
Tracy Morgan said on Friday that he's sorry for his homophobic rant earlier this month -- and it looks like he's willing to put his words into action.


In an interview with Russell Simmons at Global Grind, Morgan apologized again for his verbal tirade that sparked national outrage, swore off his hate speech and came out for marriage equality.


"Of all the sicknesses, there is probably none more abusive than homophobia. My heart is committed to giving everyone the same rights that I deserve for myself," Morgan said. "I don't care if you love the same sex as long as you have the ability to love someone I am deeply sorry for the comments I made. What I am most sad about is the comments I made about kids and bullying."


Morgan also noted his support for gays serving in the military -- an issue solved by the recent repeal of "Don't Ask, Don't Tell," and then insisted he believed in gay marriage, too.


"I believe everyone deserves the right to be happy and marry who they want too; gay, white, black, male or female. Let me know where the rally's at Russ. I'm there!" Morgan promised.


The words came as he works to make amends, not only with his public, but his friends, too. Tina Fey, his "30 Rock" co-star and executive producer slammed his comments but noted that she believed Morgan was a loving person.


"It also doesn't line up with the Tracy Morgan I know, who is not a hateful man and is generally much too sleepy and self-centered to ever hurt another person," Fey said in a statement.
Mind you, I've never found Tracy Morgan to be particularly funny. But ever since his days on "Martin" he's done a pretty good job at playing to urban stereotypes with characters that exploit such fare. And at the end of the day Morgan is a comedian with a long history of saying controversial stuff who has parlayed his act into a rich and lucrative career by basically being himself, all the while buddying up to Tina Fey (yunno, the liberal comedian, former head writer at "Saturday Night Live" and infamous Sarah Palin impressio). So for the most part Morgan was "safe", but what he probably didn't know what
safe
means to liberals--smile for the cameras, toe the line, remember to thank us for pulling you out of the ghetto every chance to get and most of all don't you ever, ever even try to tiptoe on the liberal agenda, which of course, revolves around teh gheys. Now in order to save his job, career and liveilhood Morgan has to not only apologize for his "evil" remarks, but speak against "homophobia", come out for "marriage equality" and yunno, do all the good things good Hollywood liberals do. Shoot, don't be surprised if you see Morgan marching in one of those "gay pride" marches with hot pink pants on soon a street near you.
Game. Set. Match.