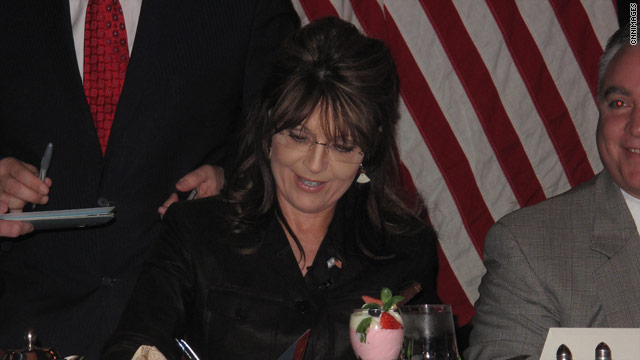 CNN.com
:
Sarah Palin addressed a variety of issues Thursday at a gathering of business officials in Long Island, New York including her 2012 plans, first lady Michelle Obama, President Obama's proposed budget, the crisis in Egypt, and her feelings on the media.


Here's a snapshot of what she had to say:


On her 2012 ambitions:
"I am still thinking of leading this country. I am still thinking about it. I haven't made up my mind. We hired a chief of staff because Todd is getting tired of doing it for me."


When asked who else she might envision at the top of the GOP ticket Palin responded, "No one is more qualified to multi-tasking and doing all the things you need to do as a President than a woman."


She then began reciting from her resume, listing her experience as a mayor and running for Vice President.


"What I would look for in terms of character is someone who's been on the front lines, who understands how to administer, how to lead a team, how to run a business."


On Michelle Obama:
"No wonder Michelle Obama is telling people to breast feed their babies, because the price of milk is rising so high."


She then warned the dozens of reporters at her question and answer event, "That better not be the takeaway here."