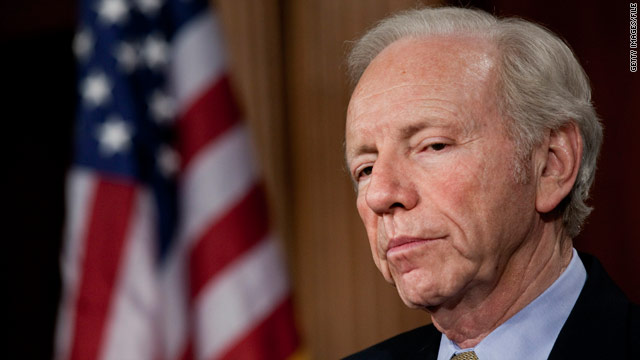 I didn't agree with all of his policies, but for a man who stood on principle (instead of ideology) and often had the courage to take on liberal terrorism while he was a Democrat,
Senator Lieberman
will always have my respect:
Sen. Joe Lieberman, the independent from Connecticut, is planning to announce Wednesday that he will not seek re-election, according to two knowledgeable Democratic sources.


The move by the former Democratic vice presidential candidate could add even more murkiness to the party's hopes of hanging on to its slim majority in the Senate in the 2012 election, especially coming on the heels of Sen. Kent Conrad's, D-North Dakota, that he will not seek re-election at the end of this term.


North Dakota's other Senate seat fell into Republican hands in the midterm election after Democratic Sen. Byron Dorgan announced his retirement. Rep. Earl Pomeroy, Democrat-North Dakota, meanwhile, lost the state's only at-large House seat in November, so Conrad's seat will be in major jeopardy.


While Lieberman is an independent he has aligned himself with the Democratic leadership for organizational purposes, helping to boost the Democratic majority on issues like health reform. But he has also frustrated party leaders on other big issues, leading one Democratic source to say privately that it's a "sigh of relief" for Democrats if Lieberman does step aside because the party would have a chance to elect someone who sides with them more often.


The race for his seat is wide open. Earlier on Tuesday former Connecticut secretary of state Susan Bysiewicz announced that she is planning to get into the 2012 Democratic primary for Lieberman's seat regardless of what the incumbent does. Reps. Chris Murphy and Joe Courtney are also considering Senate bids, while various Republicans are mulling their options.


A Lieberman aide stressed that the Senator made his own decision some time ago and it was not influenced by Bysiewicz's announcement Tuesday or any other maneuvering.