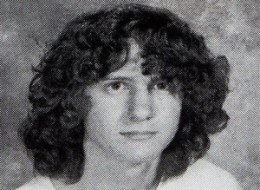 It's what gets lost in all the "who to blame" smears and rhetoric...what business did Jared Loughner have
owning a gun
?!? The guy was
clearly a nutcase
. Gun responsibility: that needs to be the conversation we're having in the wake of this senseless tragedy:
The man linked to the shooting today of Rep. Gabrielle Giffords and others is 22-year-old Jared Lee Loughner, the Associated Press reported.


Saturday afternoon, police surrounded a house at 7700 N. Soledad Ave., which is the address listed by a man with the same name on a variety of online accounts and in the volunteer registry for the 2010 Tucson Festival of Books. The home is near West Magee Road and North Thornydale Road on the northwest side, about five miles from the shooting scene.


Pima County Sheriff Clarence Dupnik would not confirm Loughner is the suspected shooter. He said the person arrested for the shooting is uninjured and uncooperative.


The suspected shooter has made death threats before and been contacted by law-enforcement officers, but the threats weren't against Rep. Gabrielle Giffords, Dupnik said. The suspect is unstable, Dupnik said, but the sheriff would not say he is "insane."


A former classmate of Loughner at Pima Community College said he was "obviously very disturbed."


"He disrupted class frequently with nonsensical outbursts," said Lynda Sorenson, who took a math class with Loughner last summer at Pima Community College's Northwest campus.


Sorenson doesn't recall if he ever made any threats or uttered political statements but he was very disruptive, she said. He was asked to leave the pre-algebra class several times and eventually was barred from class, said Sorenson, a Tucson resident.


Another Pima classmate, Lydian Ali, said Loughner would frequently laugh aloud to himself during the advanced-poetry class they attended. Only about 16 people were in the class, so Loughner's behavior stood out, Ali said.


"It almost seemed like he was on his own planet, because his comments would have nothing to do with what we were talking about," Ali said.


MySpace, YouTube and Facebook accounts maintained by Loughner suggest he has spent most of his life on the northwest side: His profile says he attended Thornydale Elementary, Tortolita Middle School, Mountain View High School


The online accounts also contain bizarre discussions of a new currency and literacy, as well as threatening and despairing messages.


"WOW! I'm glad i didn't kill myself. I'll see you on National T.v.! This is foreshadow .... why doesn't anyone talk to me?.." he posted on MySpace Dec. 14.


On Dec. 13, he wrote: "I don't feel good: I'm ready to kill a police officer! I can say it."