Saturday, December 04, 2010
Posted by

Mr. Grey Ghost
at 1:37 AM
0 comments
Links to this post


Friday, December 03, 2010
Come to America the right way by getting your citizenship and you won't have to worry about
laws like this
:
The first crack at an Arizona-style immigration overhaul has been filed in the Florida Senate, with a proposal that would let law enforcement officers ask suspected illegal aliens to prove their immigration status and could penalize some legal immigrants who aren't carrying proper documentation.

The bill, sponsored by Senate President Pro Tempore Mike Bennett, R-Bradenton, is the first volley in a likely long and heated debate over the future of immigration policy in the state. Since the passage of the Arizona law last spring, many Florida Republicans - including Gov.-elect Rick Scott - have argued that Florida needs a similar law and campaigned on the issue throughout the summer and into the fall.

``Any time you file a bill it's basically opening up for dialogue, opening up for discussion, opening up for debate,'' Bennett said.

Scott, in particular, made the Arizona law a major piece of his race for governor, frequently mentioning it at campaign stops and urging Floridians to follow his lead and make a donation to Arizona's Border Security and Immigration Legal Defense Fund. Since his election in November, the incoming governor has been largely quiet on the subject and has not drawn up any specific proposals yet, but his spokesman said the governor maintains his position on the issue.

``I have no specifics right now on what an immigration bill would have to have, but his position is still if someone violates Florida laws, the police should ask if they are legal or not,'' said Scott spokesman Trey Stapleton. ``If they are in the state illegally they should be deported.''
Posted by

Mr. Grey Ghost
at 1:33 AM
0 comments
Links to this post


Thursday, December 02, 2010
Newsmax.com
:
A controversial new ad campaign is hitting the airwaves to pressure President Barack Obama into rejecting any compromise with Republicans that would extend all Bush-era tax cuts in time to prevent a massive tax hike from automatically taking effect at year's end.


On Thursday, the lame-duck House voted to allow the expiration of tax breaks for household income above $250,000. But even Democrats admit that the bill, widely viewed as a bid to win favor with the Democratic base, is dead on arrival in the Senate, where all 42 GOP senators have said they oppose it.


But that vote, combined with the ad campaign launched by left-wing heavyweights MoveOn.org and the Progressive Change Campaign Committee, could rouse the Democratic base and complicate the administration's effort to reach a compromise with Republicans.


Obama has directed a White House team to negotiate with Republicans on the tax-break extensions. Until Thursday, the consensus among D.C. insiders was that with Obama's support, moderate Democrats and Republicans would be able to strike a last-minute bargain to extend the tax breaks.


But now some analysts are no longer so sure a deal will get done during the lame-duck Congress.
I bet most lunatics on the Left don't even understand what the "Bush tax cuts" actually does or who it also helps, but hey it has his name on it so it must be BAD!!!
Posted by

Mr. Grey Ghost
at 9:41 PM
0 comments
Links to this post


What an embarrassment.
This guy was found guilty of 11 ethics counts. Eleven. And you wonder why most Americans are fed up with Democrats in this country? "The most ethical Congress ever" my ass.
Posted by

Mr. Grey Ghost
at 9:12 PM
0 comments
Links to this post


Wednesday, December 01, 2010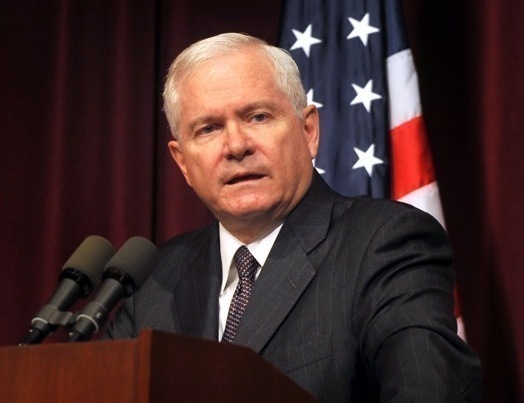 The military should
not be used
for a social experimentation, much for the wants and needs to the 20% in this country who call themselves "liberals":
THE REAL PENTAGON POLL: 91% REJECT HOMOSEXUAL LEADERS. 85% OF COMBAT MARINES DISTRUST, 71% WON'T SHARE SHOWERS, 24% WON'T RE-ENLIST.


HALF MILLION TROOPS, ONE IN FOUR, WOULD LEAVE THE MILITARY


Former Navy Chaplain Gordon James Klingenschmitt just read the full Pentagon report on repeal of Don't Ask, Don't Tell, and here's his analysis:


"Don't believe the phony liberal media reports that 70% of troops support open homosexual service, because that statistic included 'mixed' feelings. A closer reading of the fine print in the newly released Pentagon survey shows our troops answered as follows:


Q45. If you had a leader whom you believed was gay or lesbian…9% positive, 91% negative or mixed impact on unit's performance.


Q68c. 85% of Marine Combat Arms, 75% of Army Combat Arms, 64% overall say Negative, Very Negative, or Mixed impact on unit trust if DADT is repealed.


Q90. 29% would take no action if assigned open showers with homosexuals. 71% would shower at other times, complain to leadership or chaplains, don't know or do "something else" [including violence].


Q81. 24% will leave the military or think about leaving sooner than planned. (One half million troops will QUIT the service early, destroying our national security.)


Q80. 6% will positively recommend service to others after repeal. 94% feel negative, mixed, no effect, or don't know about recommending military service to others. (Destroying recruiting efforts.)


Q66. If open homosexuality impacts combat performance, is the impact...9% positive, 91% negative or mixed impact.


Q71. 11% feel positive or very positive about permitting open homosexuality in field environment or out at sea. 60% negative or mixed. 19% no effect.


Q73. 5% say repeal would positively boost morale. 41% say negative or mixed impact morale. Rest no effect or don't know.
Posted by

Mr. Grey Ghost
at 11:01 PM
0 comments
Links to this post


Good.
"Global warming" has not only turned Al Gore into a billionaire, but it's a crock, a scam rooted in white liberals repeated
lies and manipulation
of the facts:
Republicans will eliminate the House committee created by Speaker Nancy Pelosi to highlight the threat of climate change, Representative James Sensenbrenner, the top Republican on the panel, said today.


In one of her first acts as speaker in 2007, Pelosi, a California Democrat, created the House Select Committee on Energy Independence and Global Warming to draw attention to climate-change science and showcase how a cap on carbon dioxide needn't be a threat to economic growth.


Republicans, who won control of the House in the Nov. 2 election, have opposed legislative efforts to regulate carbon emissions as a tax on energy. When the panel convened today, Sensenbrenner, a Wisconsin Republican, said that the hearing "will be the last of the select committee."


Sensenbrenner had advocated extending the panel as a forum to scrutinize Obama administration actions. In an opinion column on Nov. 8 in the Washington newspaper Roll Call, he wrote that the committee was "more qualified than any other" to challenge Obama environmental initiatives that he said may threaten the economy. He acknowledged that other Republicans thought the panel should be eliminated to save money.


"We are going to get rid of waste and duplication in terms of how we run the Congress," House Republican Leader John Boehner, who is slated to become speaker in January, told reporters today. "We believe the Science Committee is more than capable of handling this issue and in the process save several million dollars."
Posted by

Mr. Grey Ghost
at 10:37 PM
0 comments
Links to this post


Tuesday, November 30, 2010
Posted by

Mr. Grey Ghost
at 11:13 PM
0 comments
Links to this post


TIME.com
:
Hillary Clinton, Julian Assange said, "should resign." Speaking over Skype from an undisclosed location on Tuesday, the WikiLeaks founder was replying to a question by TIME managing editor Richard Stengel over the diplomatic-cable dump that Assange's organization loosed on the world this past weekend. Stengel had said the U.S. Secretary of State was looking like "the fall guy" in the ensuing controversy, and had asked whether her firing or resignation was an outcome that Assange wanted. "I don't think it would make much of a difference either way," Assange said. "But she should resign if it can be shown that she was responsible for ordering U.S. diplomatic figures to engage in espionage in the United Nations, in violation of the international covenants to which the U.S. has signed up. Yes, she should resign over that."

Assange spoke about the latest tranche of documents from WikiLeaks in a 36-minute interview with TIME (the full audio will be available soon on TIME.com). He said there would be more: "We're doing about 80 a day, presently, and that will gradually step up as the other media partners step in." Indeed, every region of the world appears to be bracing for its turn in the WikiLeaks mill. Pakistani officials are almost certain that more revealing documents focusing on their country will come out soon. And the Russian media are anxious to see if future leaks will detail any behind-the-scenes dealings over the August 2008 Russia-Georgia war.
Here's the real deal: would the smug a-hole that is Julian Assange and WikiLeaks be getting away with all this treachery under the Bush administration? It's an easy card Republicans need to play.
Posted by

Mr. Grey Ghost
at 9:29 PM
0 comments
Links to this post


Monday, November 29, 2010
Posted by

Mr. Grey Ghost
at 11:49 PM
0 comments
Links to this post


Mediaite.com
:
A new billboard is causing a bit of a stir in New Jersey. The ad, which appears on a highway that leads to New York City's Lincoln Tunnel, features a nativity scene stamped with an unexpected message: "You know it's a myth. This season, celebrate reason!" As the bottom of the billboard reveals, the space was rented by American Atheists. Today, the president of that organization, Dave Silverman, stopped by America Live to talk about religion, free speech, and the "war on Christmas" with Megyn Kelly.


Though Kelly greets Silverman by playfully saying, "Way to ruin Christmas, Dave," their conversation is generally light on cutting comments. Silverman says the purpose of his billboard is "to make a point that Christmas doesn't own the solstice," as well as "to make atheists who are in the closet come out." Kelly points out that many religious people have doubts, and asks Silverman why he's trying to "pull [people] out of their faith if they're wrestling with it."


Silverman, though, responds by saying that he's trying to urge closet atheists to come clean, rather than to force anyone to do anything. Kelly and Silverman then move on to a discussion of free speech—they conclude that American Atheists have a right to post their anti-Christmas billboard, just like Christians have a right to put up Santa decorations—and briefly touch on the "war on Christmas."
Posted by

Mr. Grey Ghost
at 11:38 PM
0 comments
Links to this post


Haiti Election Ends In Discord Over Allegations Of Fraud
U.S. Documents Obtained By WikiLeaks Posted Despite Site Problem
Democrats Want To Hand $44 Billion To Illegals
Our Leadership In Washington Is The Problem, Not Body Scanners
The Real Pat-Down Outrage
Alleged Xmas Tree Bomber On Why He Wanted To Kill Americans
Lesbianism Linked To Upbringing
Partisan Inconsistency: AP Gives Two Paragraphs To GOP Win In IL-08, 14 To Dem In CA-11
Charlie Rangel Plans To Tell House He Doesn't Deserve Censure
Obama: 'I Pray Every Night,' Reads Bible
Why Would A Woman Covert To Islam?
Posted by

Mr. Grey Ghost
at 1:51 AM
0 comments
Links to this post


Sunday, November 28, 2010
Mediaite.com
:
This should really be titled "Don't Ask McCain Anything, Don't Tell Him He's Irrelevant." John McCain's stand on Don't Ask, Don't Tell changes too frequently to document although both Rachel Maddow and Jon Stewart have tried in the past. Many seem sick of hearing about Sarah Palin in the news lately, and McCain's position of the week on this issue is just as tiresome. Palin and McCain are continually able to grab headlines though, no matter how trivial their statements are, precisely because a listless President Obama has left the media spotlight open for the taking.


Apparently McCain now thinks the current military system in place works, telling CNN's Candy Crowley on State of the Union "I understand the point of view by the majority of the media, but the fact is [repeal of Don't Ask, Don't Tell] was a political promise made by an inexperienced president or candidate for president of the United States." Well that charge came out of nowhere, but at least it is easier to comprehend than McCain's past verbal gymnastics of debating with himself whether military leaders or the actual troops had more credibility to determine whether repeal should take place. McCain also continually stressed the "all-volunteer" nature of our forces, which hopefully was not a hint that if gays in the military do not like the current policy they should quit, and instead was a concern that repealing the policy might result in other members of the military quitting.


While the issue of repealing Don't Ask, Don't Tell is certainly open to debate, especially since changing policy in the midst of two wars might not be an effective strategy, the time for that debate should by now have come and gone, since military leaders have now commented and studies are ready to be presented to Congress this week. Therefore, now the Commander-in-Chief should be speaking authoritatively and finally resolving the issue. Instead, McCain is able to single-handedly keep the issue alive and can now dismiss the entire notion of any change whatsoever. Similarly, when Obama is silent about what his current national priorities are, he enables the always exciting Palin to capture the public's daily fascination.
Posted by

Mr. Grey Ghost
at 10:34 PM
0 comments
Links to this post