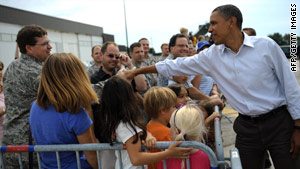 YahooNews.com
:
A

combative

President

Barack

Obama

rolled out a long-term jobs program Monday that will exceed $50 billion to rebuild roads, railways and runways, and coupled it with a blunt campaign-season assault on Republicans for causing Americans' hard economic times.




GOP

leaders

instantly assailed Obama's proposal, and many Democrats will likely be reluctant to approve additional spending and higher federal deficits just weeks before elections that will determine control of Congress.

That left the plan with low odds of becoming law this year.

Jim

Manley

, spokesman for Senate Majority Leader Harry Reid of Nevada, cautioned, "If we are going to get anything done, Republican cooperation, which has been all but non-existent recently, will be necessary."



Administration

officials

said that even if the program somehow won quick congressional approval, it would not produce jobs until sometime next year. That means the proposal's only pre-election impact may whether voters interpret it as a serious effort by the

White

House

to boost the economy and create jobs.
The nerve of this guy. Everybody but Barry's idiot liberal base warned him about going full throttle on ObamaCare instead of making the economy his No. 1 priority, but he did listen? Of course not. No, he wanted to fill "liberal lion" Ted Kennedy's legacy (or 'change' it when you include
Chappaquiddick
). He thought his stimulus package was a sure thing (it wasn't, any wonder he's trying to get a 2nd one passed before November). He thought Americans would forever stay mesmerized by "hope and change" to the point that they'd forget the need to put food on their tables, yet that hasn't happened either. And now Barry's desperate, blaming everything on a political party that hasn't been in charge of either chamber of Congress in almost 4 years. Unbelievable.