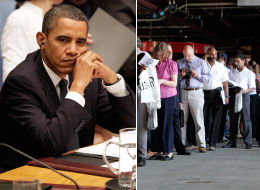 Of course, conservatives have been saying that the
unemployment rate
should be priority No. 1 for Barry for over a year now:
The Obama administration seems to be feeling sorry for itself. Robert Gibbs, the president's press secretary, is perturbed that Mr. Obama is not getting more hosannas from liberals.

Spare me. The country is a mess. The economy is horrendous, and millions of American families are running out of ammunition in their fight against destitution. Steadily increasing numbers of middle-class families, who never thought they'd be seeking charity, have been showing up at food pantries.

The war in Afghanistan, with its dreadful human toll and debilitating drain on the nation's financial resources, is proceeding as poorly as ever. As The Times reported on Friday, an ambitious operation that was supposed to showcase the progress of the Afghan Army turned into a tragic, humiliating debacle.

And while schools are hemorrhaging resources because of budget meltdowns, and teachers are losing jobs, and libraries are finding it more and more difficult to remain open, American youngsters are falling further behind their peers in other developed countries in their graduation rates from colleges and universities.

This would be a good time for the Obama crowd to put aside its concern about the absence of giddiness among liberals and re-examine what it might do to improve what is fast becoming a depressing state of affairs.

It's not just liberals who are gloomy. A Wall Street Journal/NBC News poll this week found that nearly 6 in 10 Americans believe the country is on the wrong track and a majority disapproves of President Obama's handling of the economy. Nearly two-thirds expect the economy to get worse still.

Mr. Obama's problem — and the nation's — is that in the midst of the terrible economic turmoil that the country was in when he took office, he did not make full employment, meaning job creation in both the short and the long term, the nation's absolute highest priority.

Besides responding to the nation's greatest need, job creation would have been the one issue most likely to bolster Mr. Obama's efforts to bring people of different political persuasions together. In the early months of 2009, with job losses soaring past a half-million a month and the country desperate for bold, creative leadership, the president had an opportunity to rally the nation behind an enormous "rebuild America" effort.

Such an effort, properly conceived, would have put millions to work overhauling the nation's infrastructure, rebuilding our ports and transportation facilities to 21st-century standards, establishing a Manhattan Project-like quest for a brave new world of clean energy, and so on.