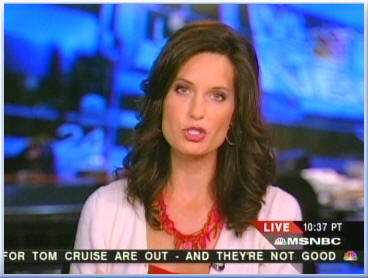 Newsbusters.org
:
On Monday's News Live, MSNBC's Contessa Brewer expressed incredulity at the revelation that journalist Andrew Breitbart will be appearing at a Republican fundraiser. "I mean, really? Is he going to be a good fund-raiser for the Republicans?"


Reporter Richard Wolffe lectured, "Because if he is that much of a political activist that he is raising money for the RNC, then he is not quite the journalist he describes himself as."

Yet, those exact words could be put to Brewer. On July 24, she was the featured guest at a fundraiser in Kentucky for gay rights. This despite the fact that the anchor has also reported on gay rights for MSNBC. On the July 12 News Live, she wondered why American politicians weren't "taking a stand" on ending Don't Ask, Don't tell.


Brewer lectured, "Why aren't more American leaders itching for a fight on gay rights?" Wouldn't this be the type of journalistic contradiction that Brewer and Wolffe were complaining about?

At Saturday's event, which took place in Kentucky, Brewer asserted, "I've never taken a public stand on a controversial issue. Gay rights are civil rights. Gay rights are human rights and given the invitation to speak, I could not, in good conscience, remain silent."
Yeah, a well-paid white female journalist who works at a lily-white, cable news network should definitely understand a thing or two about "civil rights". Selective "OUTRAGE!" anyone?