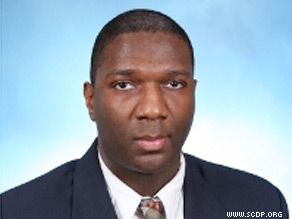 South Carolina's top law enforcement agency announced Friday that it will not file charges against Democratic Senate nominee Alvin Greene.




The South Carolina Law Enforcement Division (SLED) had been investigating how Greene, a political newcomer who could not afford a lawyer when facing criminal charges last year, came up with the $10,440 needed to get his name on the Democratic Senate primary ballot.




"After a thorough investigation, SLED has concluded that there is no evidence of wrongdoing, criminal intent or deception to the court when Greene applied for a public defender last year," the agency said in a statement Friday.




"During the course of the investigation, SLED determined that monies spent for Greene's filing fee were the candidate's personal funds and therefore, no laws were violated in association with Greene's payment to the South Carolina Democratic Party," SLED said.




Greene has long maintained that he tapped into his personal savings to pay the filing fee.
Now hopefully we can get back to the business of getting Alvin Greene into the Senate.