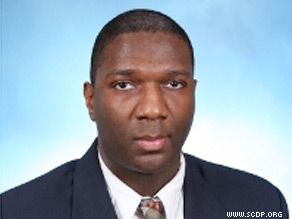 As Democrats in South Carolina face the uncomfortable prospect of having unemployed political novice Alvin Greene as their Senate nominee in November, some in the party have launched an effort to put a more polished candidate on the ballot as an independent.




Allies of former congressional candidate Linda Ketner, who came within four points of unseating Rep. Henry Brown in 2008, are seeking 10,000 signatures by July 15 to get Ketner's name on the ballot along with Greene and the Republican incumbent, Sen. Jim DeMint.




Ketner confidante Tasha Gandy announced the "all volunteer viral and field organizing effort" in an e-mail to former Ketner staffers Wednesday. "Long shot?," she wrote. "Yes. Have crazier things happened in SC? Yes. Can you help?"




The former staffers have also launched a campaign-style website for the petition drive.
Amazing. The voters in South Carolina have made their intentions clear, voting for
Alvin Greene
to hopefully be their senator, and because he doesn't fit the model of what white liberals think a
good, articulate Negro
should be, they're trying to take him out. The people of South Carolina need to step up and fight this injustice.