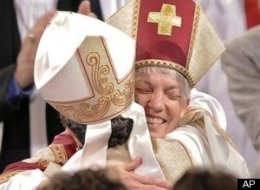 Seven years after the Episcopal Church caused an uproar by consecrating its first openly gay bishop, it has done the same thing again -- only this time with a woman.




The Rev.

Canon

Mary Glasspool, of Baltimore, was ordained and consecrated on Saturday, making her the second openly gay bishop in church history and one of the first two female bishops in the Diocese of Los Angeles' 114-year history.




She was installed at Long Beach Arena before 3,000 people, who burst into applause at the end, church spokesman Bob Williams said.




Just before the ceremony began, a man stood, shouted about the need to repent and held up a sign that read "Do not be deceived, homosexuals will not inherit the kingdom of God."
Understand something, the Episcopalian "church" as it stands today doesn't represent the teachings of Jesus Christ, it's a joke, an immoral cesspool in which "preachers" have manipulated the Bible for their own desires. The Bible's stance on homosexuality is crystal clear: it's
wrong
. And messing with the Scripture is not a game folks, the standards are there and we will not be judged on what people say, but what we do.