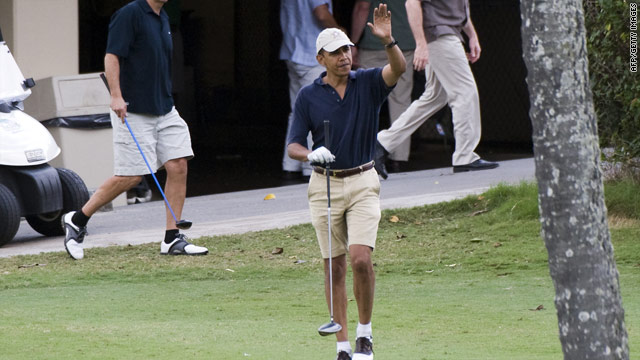 FOXNews.com:
President Obama is taking fire for his decision to hit the links Sunday after being forced to cancel his trip to Poland to attend the funeral of the nation's president.

The Warsaw Business Journal's headline read: "Obama Goes Golfing Instead of Attending Kachinsky's Funeral." It also quoted a Washington Times article noting Secretary of State Hillary Clinton and Vice President Biden both have taken time to visit the Polish embassy to sign a book of condolences, something the president has yet to do.

Of course President Obama was not the only world leader prohibited from attending because of the cloud of smoke and ash from the volcano in Iceland.

Speaking of Golf, CBS Radio White House reporter Mark Knoller says President Obama has played 32 times since taking office. In his eight years, President George W. Bush played 24 times, giving it up in late 2003, saying it wasn't appropriate during a time of war.
Of course, Krazy Keith and his friends in the lib media were "OUTRAGED!!!" about Bush's golfing habits, but say little about Barry's.