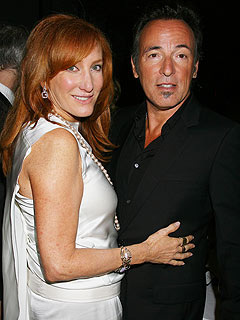 TMZ.com:
Not even

The Boss

, it would seem, is immune from the infidelity epidemic going around -- allegedly.



Bruce Springsteen

was carrying on an affair with a married woman in New Jersey, according to the

New York Post

today, which cites legal docs in the woman's

divorce

.

According to papers filed by her soon-to-be ex-husband,

Ann Kelly

and Bruce met a gym in New Jersey in 2005, when Bruce allegedly dogged her as she ran on the

treadmill

, telling her she had the "nicest ass" in the gym.

Her husband claims in divorce docs that Bruce and Ann began going to lunch, and it eventually became a full-on affair.



According to the papers, Bruce became the main topic of conversation in marriage-counseling session between Ann and her hubby.

Springsteen got together with his current wife,

Patti Scialfa

, while he was with his first wife, Julianne

Phillips

.



A rep for Bruce declined to comment to The Post.

Springsteen is not only a noted cheater, but a longtime,
radical Lefty
who did everything he could to try and get John Kerry elected President back in '04 (and failed). But then there's no surprise here, conservatives are well aware that liberals (who promote everything from gay marriages to open marriages to polyamorous relationships, etc.) don't take the sanctity of marriage seriously. Let's hope that Springsteen's long suffering wife gets at least half of what he's worth.