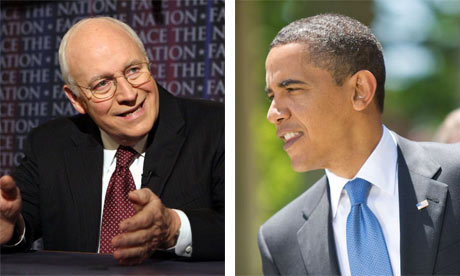 ABCNews.com
:
One day after

President Obama

called the "human and systemic failures" leading to the attempted Christmas Day bombing of

Northwest flight 253

"totally unacceptable," former

Vice President Dick Cheney

is accusing the president of being part of the problem.

"We are at war, and when President Obama pretends we aren't, it makes us less safe," Cheney said in a statement to Politico.

Cheney said Obama's "low key response" to the failed attack, refusal to use the phrase "war on terror" and the pending closure of the Guantanamo Bay detention center all reflect an attitude that terrorism is a law enforcement problem, not a military one.

"Why doesn't he want to admit we're at war? It doesn't fit with the view of the world he brought with him to the Oval Office. It doesn't fit with what seems to be the goal of his presidency -- social transformation -- the restructuring of American society," Cheney said.
Dick Cheney's words are welcome.


RELATED:
White House Forcefully Responds To Cheney