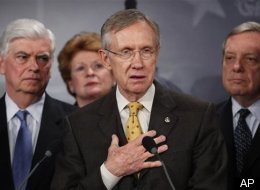 Actually, even if Reid's bill passes, since it's a different version of the House's bill, more backdoor deals may have to be made in order for a bill to reach Barry's desk. This is still a good sign that healthcare reform is on the way:
Senate Democrat Blanche Lincoln of Arkansas said Saturday she will support bringing the Senate health care reform bill to the floor for debate, giving Democrats the 60 votes they need to prevent a Republican filibuster.

"Although I don't agree with everything in this bill, I believe it is important to begin this debate," she said.

"This issue is very complex. There is no easy fix," she said in making her announcement on the Senate floor, just hours before Saturday night's 8 p.m. procedural vote.

Earlier Saturday, Sen. Mary Landrieu, D-Louisiana, became the 59th lawmaker to agree to vote for debate.

But she added a caveat on the floor of the Senate: "My vote today to move forward on this important debate should in no way be construed by the supporters of this current framework as an indication of how I might vote as this debate comes to an end.

"It is a vote to move forward to continue the good and essential and important and imperative work that is under way."

Sixty votes are needed to move the controversial bill to the floor for discussion. The legislative body is expected to vote Saturday night.