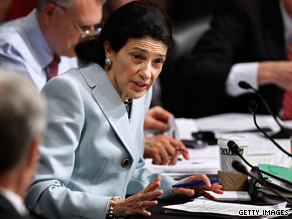 YahooNews.com
:
With support from a lone Republican, a key Senate committee Tuesday approved a middle-of-the-road

health care plan

that moves

President Barack Obama

's goal of wider and affordable coverage a giant step closer to becoming law.

Maine Republican Olympia Snowe said she was laying aside misgivings for now and voting to advance the bill, a sweeping $829-billon, 10-year health care remake that would help most Americans get coverage without creating a new government insurance plan. "When history calls, history calls," said Snowe.

Finance Committee Chairman Max Baucus, D-Mont., called his bill "a commonsense, balanced solution." A distance runner, Baucus has endured months of marathon meetings to get this far. It's not the finish line.

Health care legislation is expected to be on the Senate floor the week after next, said a spokesman for Majority Leader Harry Reid of Nevada. But it won't be the Baucus bill. Reid will combine the Finance version with a more liberal proposal from the health committee — with unpredictable results.
Olympia Snowe has once again made it clear that she plays by her own rules. Snowe has no fear of the Far-Right, much less their attempts to bully her. BaucusCare has been roundly dissed by the Left, more reason for Snowe to join in, but then I doubt BaucusCare will have enough votes to make it to Barry's desk anyway. Such is the life of partisan politics.