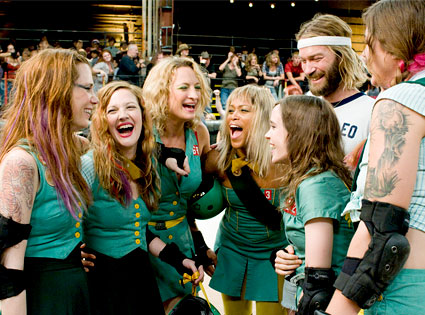 YahooNews.com:
Woody Harrelson

scored the biggest opening of his career at the North American box office, as "Zombieland" stormed theaters with weekend ticket sales of $25 million, according to studio estimates issued on Sunday.

The comedy ended the two-week reign of children's comedy "Cloudy With a Chance of Meatballs," which slipped to No. 2 with $16.7 million. Both films were released by Columbia Pictures, a unit of Sony Corp.

Four other new releases entered the top-10. A 3-D reissue of the Pixar cartoons, "Toy Story" and " Toy Story 2," opened at No. 3 with $12.5 million. The release was designed to stoke anticipation of the June 2010 arrival of " Toy Story 3."

British comedian Ricky Gervais' "The Invention of Lying" followed with a modest $7.4 million, slightly ahead of Bruce Willis' "Surrogates," which is in its second weekend. Rankings could change when final data are released on Monday.

Two entries tied at No. 7: Drew Barrymore's directing debut, "Whip It," and documentary filmmaker Michael Moore's "Capitalism: A Love Story" each reported about $4.9 million in ticket sales.
Good. I can't think of a more annoying and overrated actress than Drew Barrymore. I've never liked her acting (much less the way she insists on incorporating standard leftist dogma in her roles and the flicks she now directs) or found her attractive. But yet thanks mostly to her notorious last name as well as a wild childhood based sex, money and drugs, not only has liberal Hollywood forever embraced her, but so too have the gossip-mongers and tabloids. Then too Drew's personal life hasn't suffered either, as a woman who is plain at best somehow manages to land boyfriend after boyfriend with Hollywood hunks who could do way better.