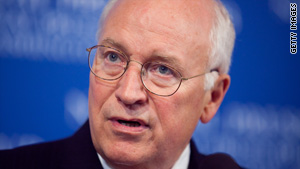 CNN.com:
Former vice president Dick Cheney told a special prosecutor in 2004 that he had no idea who leaked the identity of CIA agent Valerie Plame, according to newly released FBI documents.

Cheney was questioned as part of an investigation on how journalists came to know the identity of Plame, the wife of former Ambassador Joseph Wilson, who was a critic of the Iraq war.

In the interview, Cheney responded to many questions with "I do not recall."

However, he took a few stabs at the CIA in its handling of White House allegations that Iraq was attempting to purchase uranium from Niger to manufacture nuclear weapons.

Wilson was dispatched to Niger on a CIA assignment to explore the charges and later said that the Bush administration was twisting facts to support an invasion of Iraq. He implied in a newspaper article that his trip was at the behest of the vice president.

Cheney's reaction to the article was that it was "amateur hour" at the CIA, according to the FBI documents, released after the Citizens for Responsibility and Ethics, a watchdog group in Washington, sued under the Freedom of Information Act. The 28-page summary of the Cheney interview was made public more than five years after it took place.

Cheney, his chief of staff, Scooter Libby, and presidential adviser Karl Rove, were named in a 2006 federal civil lawsuit by Plame and Wilson. Plame contended she was the victim of intentional and malicious exposure and that both she and Wilson suffered a violation of rights. The lawsuit was dismissed in 2007.

Only Libby was tried and convicted of perjury, obstruction and lying to the FBI about the Plame leak. President George W. Bush later commuted his sentence.
Bush Derangement Syndrome once again rears its ugly head. Dick Cheney dares to speak out against The One and his minions on the Left will do anything to shut him up, including trying to get him brought up on charges he released information on a former CIA secretary that no one cares about. Of course, what they never mention is that Richard Armitage was the sole person responsible for "leaking" Plame identity, but why let something like facts get in the way when you're suffering from major BDS.