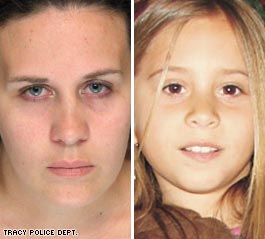 CNN.com:
Prosecutors will seek the death penalty against a former California Sunday school teacher accused of killing an 8-year-old girl earlier this year.

Melissa Huckaby, 28, was indicted last month in the death of Sandra Cantu, a playmate of Huckaby's daughter. Huckaby lived in the same mobile home park as Cantu and her family in Tracy, California.

Sandra's body was found April 6, stuffed into a suitcase and submerged in a pond at a dairy farm. She was last seen alive March 27 in the mobile home park.

Huckaby is charged with kidnapping and murdering Sandra, according to the indictment, along with lewd and lascivious acts on a child under 14 and rape by instrument. She pleaded not guilty in June, but entered another not guilty plea on Thursday at a hearing, minutes of which were provided to CNN by a court spokeswoman.

Prosecutors said at the hearing Thursday they plan to seek the death penalty.

Huckaby is the granddaughter of Clifford Lane Lawless, pastor of Clover Road Baptist Church near the mobile home park, and she taught Sunday school at the church, police said.

The church was searched as part of the investigation into Sandra's disappearance and death.
I've been following this story for awhile now and can't help but to have noticed the lack of attention given to it by the mainstream press. Makes me wonder if Melissa Huckaby being a woman has played into it, esp. considering how heinous the crime was and how the press, I feel, is biased towards violence against white women. Still, if Melissa Huckaby is found guilty, she should be given a sentence of life without the possibility of parole. The death penalty is forever wrong in my book.