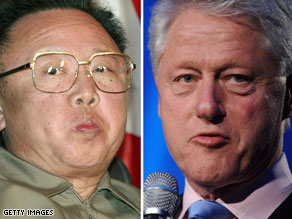 CNN.com:
North Korean President Kim Jong Il has pardoned and ordered the release of two U.S. journalists, state-run news agency KCNA said Wednesday.

The announcement came after former U.S. President Bill Clinton met with top North Korean officials in Pyongyang to appeal for the release of Laura Ling and Euna Lee, who had been arrested while reporting from the border between North Korea and China.

"Clinton expressed words of sincere apology to Kim Jong Il for the hostile acts committed by the two American journalists against the DPRK after illegally intruding into it," the news agency reported. "Clinton courteously conveyed to Kim Jong Il an earnest request of the U.S. government to leniently pardon them and send them back home from a humanitarian point of view.

"The meetings had candid and in-depth discussions on the pending issues between the DPRK and the U.S. in a sincere atmosphere and reached a consensus of views on seeking a negotiated settlement of them."
Somehow I think that there's way more to this story than what we're getting.