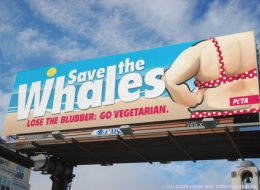 HuffPo.com:
PETA's new billboard campaign in Florida is raising eyebrows and ire among women and health groups. A drawing on billboards in Jacksonville depicts an obese woman with the phrase, "Save The Whales, Lose The Blubber: Go Vegetarian."

In a press release, PETA stated:


A new PETA billboard campaign that was just launched in Jacksonville reminds people who are struggling to lose weight -- and who want to have enough energy to chase a beach ball -- that going vegetarian can be an effective way to shed those extra pounds that keep them from looking good in a bikini. [....]


Anyone wishing to achieve a hot "beach bod" is reminded that studies show that vegetarians are, on average, about 10 to 20 pounds lighter than meat-eaters. [...]

"Trying to hide your thunder thighs and balloon belly is no day at the beach," says PETA Executive Vice President Tracy Reiman. "PETA has a free 'Vegetarian Starter Kit' for people who want to lose pounds while eating as much as they like.

Jessica at Feministing blasts the billboard as "fat-shaming" and that "PETA owes the residents of Jacksonville a serious apology."

Holly at Deceiver states, "This is exactly what you would expect [from PETA] -- no empathy for humans whatsoever, just a lot of B.S. about how vegetarianism will make fat people just a little bit less of a blight on humanity."

PETA is known for its attention-grabbing tactics involving scantily clad-women, like this veggie dog eat-in on Capitol Hill that involved playboy playmates wearing only lettuce bikinis.
Of course to the shallow, elitist, white liberal crowd, anything over 120lbs. on a woman is considered "fat"--just look at the stick figures who get the major fashion magazine covers. Regardless PETA once again shows itself to be a disgrace pulling a stunt like this.