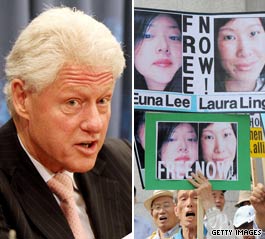 YahooNews.com:
Former

U.S. President Bill Clinton

made a surprise trip to

North Korea

on Tuesday amid an international standoff over the country's nuclear program and concerns about two U.S. reporters imprisoned in Pyongyang since March.

Clinton landed in Pyongyang in an unmarked jet Tuesday and was greeted at the airport by North Korean officials, including chief nuclear negotiator Kim Kye Gwan and vice parliamentary speaker Yang Hyong Sop, footage from APTN Pyongyang showed. He smiled and bowed as a young girl presented him with flowers.

The unannounced visit comes amid heightened tensions over North Korea's string of nuclear and missile tests in defiance of the U.N. Security Council and calls from Washington for amnesty for the two jailed reporters.

Laura Ling and Euna Lee, who work for former Vice President Al Gore's California-based Current TV media venture, were arrested in March while on a reporting trip to the Chinese-North Korean border. They were sentenced in June to 12 years of hard labor for entering the country illegally and engaging in "hostile acts."
Shame that Slick Willie would have to take up the slack for The Goracle, especially since these journalists are yunno....Gore's employees. But I guess when you're traveling around the world making millions off of faux global warming alarmism, who cares about taking care of your own.