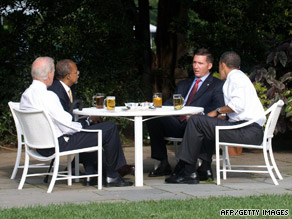 CNN.com:
President Obama sat down for a beer at the White House Thursday night with a top African-American professor and the police officer who arrested him earlier this month.

They were joined by a previously unannounced guest, Vice President Joe Biden.

Sgt. James Crowley and Henry Louis Gates Jr., both dressed in suits, sat down with Obama and Biden, who both had their white dress shirt sleeves rolled up.

Video from the meeting showed mugs of beer being delivered to the men, who sat at a round table at the edge of the White House's Rose Garden, munching peanuts and pretzels from silver bowls.

The president was drinking Bud Light, Biden was drinking Buckler (a nonalcoholic beer), Gates was drinking Samuel Adams Light and Crowley was drinking Blue Moon.

After the meeting, Crowley told reporters that the men had a "cordial and productive discussion," in which they agreed to move foward rather than dwell on past events.
Again, Barry may be a lot of things, but he's not stupid. My guess is that at the last minute either Barry or one of his advisors figured out that it probably wouldn't look good for white cop Crowley to be sitting down with two black dudes--one of whom is a Harvard law professor while the other happens to be President of the United States. So why not bring the dunce of a Vice-President in to do something productive and make Crowley feel a little more comfortable.