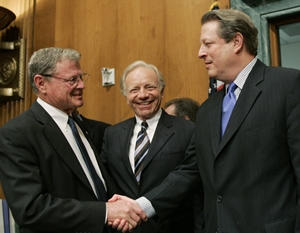 Newsmax.com:
The cap-and-trade bill to curb carbon emissions has passed the House of Representatives, but there's "not any way in the world" that it will pass the Senate, Sen. Jim Inhofe tells Newsmax.

The Oklahoma Republican, Ranking Minority Member on the Committee on Environment and Public Works, says the bill — strongly backed by the Obama administration and House Speaker Nancy Pelosi — currently has only 34 supporters in the Senate.

That is not only far short of the 60 votes needed to defeat a filibuster, it is also short of the 51 votes needed for a majority in the Senate.

The House bill requires a 17 percent reduction of greenhouse gases — mainly carbon dioxide from burning fossil fuels such as coal — by 2020 from 2005 levels, and about an 80 percent reduction by mid-century. It would also allow polluters to buy and sell emission allowances as a way to ease the cost of compliance.

"The House of Representatives passed it with 219 votes," Sen. Inhofe told Newsmax.TV's Ashley Martella.

"That's just one over the 218 that would be required. So there's a lot of arm-twisting.

"All the far-left extremist environmentalists were celebrating. The Al Gore guys thought it was the greatest day in the world. And yet they knew all the time that there's not any way in the world they're going to be able to get that passed out of the Senate.
Good. And tell ManBearPig that he can take his global warming alarmism and can go to hell while you're at it.