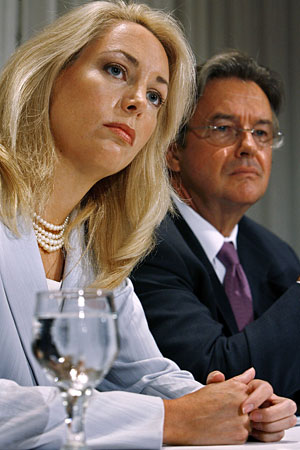 MSNBC.com:
The U.S. Supreme Court will not revive a lawsuit that former CIA operative Valerie Plame brought against former members of the Bush administration.

The court on Monday refused to hear an appeal from Plame and her husband, former Ambassador Joseph Wilson.

A lower court last year threw out the lawsuit in which Plame and Wilson accused former Vice President Dick Cheney and several former high-ranking administration officials of disclosing her identity to reporters in 2003. Plame and Wilson said that violated their constitutional rights.

The lawsuit named former presidential adviser Karl Rove; Cheney's former top aide, I. Lewis "Scooter" Libby; and former Deputy Secretary of State Richard Armitage.

The U.S. Court of Appeals said that Plame and Wilson did not meet the legal standard for constitutional claims, in part because the lawsuit hinges on alleged violations of the Privacy Act — a law that does not cover the president or the vice president's offices.
Richard Armitage "outed" former secretary Valerie Plame, not Karl Rove, not Scooter Libby or anyone else in the Bush administration. Now it's about time the book on the arrogant pricks that are Joe Wilson and Valerie Plame be closed.