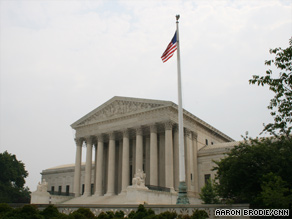 CNN.com:
A former Army captain who was dismissed under a federal law dealing with gays and lesbians in the military lost his appeal Monday at the U.S. Supreme Court.

James Pietrangelo and 11 other veterans had sued the government over the "don't ask/ don't tell" law passed in 1993.

Pietrangelo was the only one who appealed to the high court, but the justices without comment refused to intervene.

The provision forbids those in the military from openly acknowledging or revealing their homosexuality, and prevents the government from asking individual soldiers and sailors about their sexual orientation.

The Obama administration had asked the high court not to take the case, and White House officials had said they would not object to homosexuals being kicked out of the armed services.

During the presidential campaign last year, President Obama said he supported throwing out the federal law but has taken no specific action on the controversy.
This is the right decision by SCOTUS. The military isn't the place for social experimentation, much less people who identify themselves by who they have sex with. And for liberals who argue that by keeping gays out, the military losses good soldiers, the gist of DADT was to give the gays a compromise--i.e. shut up about your same-sex lust and you get to stay. But that isn't enough for some the gays who want to serve "openly", yet cohesion definitely becomes risky when you have soldiers who choose not to adhere to policy. Then too, another detriment to the recession is the fact that so many of the unemployed are attempting to join the military that they're literally having to turn people away. All in all Barry doesn't want to pick a fight with conservatives, much less the armed forces on this issue and the military will be fine without having to worry about sex fiends putting personal lust before
what's best for their country.