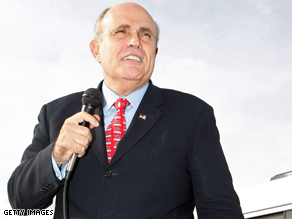 CNN.com:
Former New York City Mayor Rudy Giuliani tells CNN that he's thinking about running for governor of New York next year, but that's as far as he's going right now.

Asked by CNN's John Roberts on American Morning if he's seriously considering a gubernatorial bid, Giuliani said "I'm thinking about it but I don't know if I'm at the point of seriously considering it. It's a little too early."

Giuliani, who spent much of 2007 and the first month of 2008 running for the Republican presidential nomination, is often mentioned as a possible contender to take on incumbent Democratic Gov. David Paterson in next year's contest.

Recent polls of New York State voters indicate that if the election where held today, Giuliani would beat the unpopular Paterson. But surveys also suggest if New York State Attorney General Andrew Cuomo were the Democratic nominee, Cuomo would beat Giuliani in a hypothetical general election match up.
God, and I can't believe I'm saying this considering how much I despised the man when he was mayor of NYC, but I'd take Giuliani over Paterson any day of the week.