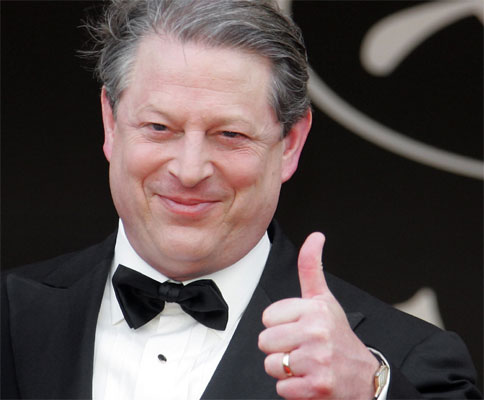 Examiner.com
:
The two reporters for Al Gore's TV Current, an on-line journal based in San Francisco, who have been held since March, were found guilty of illegal entry and sentenced to 12 years hard labor, the North Korean news agency said on Monday.

Al Gore and his on-line network have yet to speak out on the actions by the North Korean government -- the arrest and now the sentencing.

The pair, Laura Ling and Euna Lee, were arrested by the North Korean authorities on March 17, after traveling through northern China to the North Korean border to do a story on trafficking of North Korean women.

They may not have even been in North Korea at the time of their arrest. North Korean border guards probably crossed the Tumen (the river that forms the border) while Ling and Lee were filming on the Chinese bank, according to Reporters without Borders.

There were many comments to my April 21, 2009 post when I criticized Gore for failing to speak out on behalf of his journalists. Several irate readers assured us that negotiations were occurring behind the scenes.

Then on June 4, 2009 Reuters reported that the U.S. might send former vice president Al Gore to Pyongyang in order to negotiate the release of two American journalists on trial in North Korea for illegal entry.

Too little and too late.

There's been a virtual news blackout at Gore's TV Current, his on-line TV station has suppressed readers' comments, refused to report the story about his own reporters. TV Current even posted a guard to keep the press out, as reported by the SF Weekly.

Now, the two journalists, Ling and Lee, have been convicted and sentenced.

Then and now, the former Vice President remains silent.

His silence in March, through April, through May has left the two pawns in the standoff between the U.S. and North Korea.

North Korea has defied the U.S. by conducing prohibited missile tests. Now they have insulted the U.S. by sentencing two likely innocent journalists to hard labor. It is an embarrassment to this country, shameful for the former vice president, and a tragedy for the two journalists.
While The Goracle makes millions with his global warming hoax, he leaves his employees in the lurch. Wonder if the mainstream press will the guts to make hay of this.