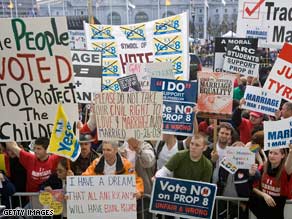 Finally, after so many recent setbacks, a victory for traditional marriage:
The

California

Supreme Court

upheld a voter-approved ban on same-sex marriage Tuesday, but it also decided that the estimated 18,000 gay couples who tied the knot before the law took effect will stay wed.

The 6-1 decision written by Chief Justice Ron George rejected an argument by gay rights activists that the ban revised the California constitution's equal protection clause to such a dramatic degree that it first needed the Legislature's approval.

The court said the people have a right, through the ballot box, to change their constitution.

"In a sense, petitioners' and the attorney general's complaint is that it is just too easy to amend the California constitution through the initiative process. But it is not a proper function of this court to curtail that process; we are constitutionally bound to uphold it," the ruling said.

The announcement of the decision set off an outcry among a sea of demonstrators who had gathered in front of the San Francisco courthouse awaiting the ruling. Holding signs and many waving rainbow flags, they chanted "shame on you." Many people also held hands in a chain around an intersection in an act of protest.

Gay rights activists immediately promised to resume their fight, saying they would go back to voters as early as next year in a bid to repeal Proposition 8.
I predicted that the California Supreme Court would seek a "compromise" by upholding Prop 8, while allowing those gays who were already "married" to stay "wedded". Predictably, the immoral Left is seething over this decision, so one can soon expect a host of demonstrations, riots, conservative smearing and bully tactics against Prop 8 supporters until the next time Prop 8 comes up for a vote--that's just their way. In the meantime, conservatives in Iowa, Maine, Connecticut, Massachusetts and New Hampshire should use this case as motivation to turn over the decisions of activist judges in their states that recently forced "gay marriage" on their populace. Either way, I still have the feeling that like it or not, eventually SCOTUS will have to get in on this matter and settle it once and for all.