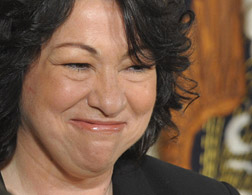 Hmmm....maybe she's
not as liberal
as some would like to think:
Judge Sonia Sotomayor is sparking fears among pro-abortion advocates on the left who fear that she may be a closeted pro-life advocate, according to The Los Angeles Times.

They have seen no evidence that she supports upholding Roe Vs. Wade, and Sotomayor has never ruled on abortion or taken a public position in favor of pro-abortion rights.

In her only abortion-related decision, according to the Times, she did not come down the way abortion-rights groups would have liked. In 2002, Sotomayor, raised a Catholic, rejected a challenge to President Bush's "Mexico City policy," which required foreign groups receiving U.S. funds to pledge that they did not support or promote abortion. Republican presidents have adopted the policy in executive orders, while Democrats, including President Obama, have repealed it.

Sotomayor spoke for a three-judge panel that upheld the policy as constitutional. The government "is free to favor the antiabortion position over the pro-choice position and can do so with public funds," she said.

"I simply don't know Judge Sotomayor's view on Roe vs. Wade. I will be very concerned if the question is not asked and answered during the Senate hearings," Nancy Northup, president of the Center for Reproductive Rights, told the Times.

Despite efforts to get clarification, Northup said, "So far, no one has been able to give us an assurance of her views."

Meanwhile, the White House is stressing that Obama doesn't have a litmus test on abortion despite frequent campaign promises by the president to uphold abortion rights.
Of course, with a small paper trail on abortion--not to mention her being raised a Catholic, liberals are already demanding that Sotomayor be asked about Roe vs. Wade during the upcoming conformation hearings. But issues, or a litmus test shouldn't come into play here, Sotomayor's experience, competency and qualifications is what matters most. Then too maybe it ends up that Sotomayor's relatively slim record on abortion played a huge part in her getting picked for SCOTUS--in other words Barry's way of saying that in this case, he won't be bullied by the fearmongers in the angry Left.