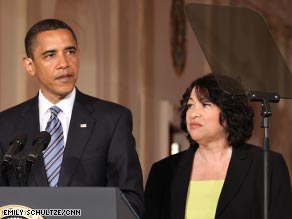 FOXNews.com:
President Obama nominated federal Appeals Court Judge Sonia Sotomayor to the U.S. Supreme Court Tuesday, citing her "inspiring life story" and "distinguished career" in his decision.

Sotomayor, 54, would be the first Hispanic on the high court if confirmed. She would succeed Justice David Souter, who is retiring.

The president, in his announcement, said he was looking for a justice with a "common touch and a sense of compassion" as well as experience and depth of knowledge. He said Sotomayor, who grew up in a Bronx housing project and has an extensive judicial background, would come to the Supreme Court bench with more varied experience than anyone currently on the court when they were appointed.

Sotomayor, who said she was "deeply moved" by the president's decision, called herself an "ordinary person who has been blessed with extraordinary opportunities and experiences."

Obama called Sotomayor an "inspiring woman who I believe will be a great justice."
Yawn. Should anyone be surprised that Barry used his first opportunity and picked a female for SCOTUS? Not really, when you consider that Barry has a white, liberal base that would've been up in arms had dared to select a man. Hell, no matter how much Barry's minions in the press try to deny it, the fact that all of the finalists to replace David Souter were woman, shows you what Barry was going to pick the best FEMALE (instead of the best person) for the job from the get-go.

Anyway, Sotomayor certainly has the experience for the job and liberals will love using the fact that former President George H.W. Bush first picked Sotomayor to be a U.S. District Court judge--clever way to ward off conservatives seeking to ambush Sotomayor come the Senate Conformation hearings. And despite her liberal leanings as well as having made some controversial statements in the past, the feeling here is that with a Democrat majority in Congress (plus, strategically speaking this wouldn't be a good time for the GOP to risk pissing off the Hispanic populace), Sotomayor will easily be confirmed to SCOTUS.