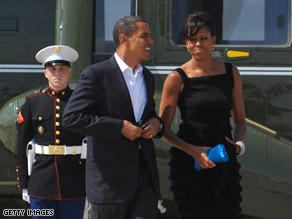 Barack Obama didn't feel it was important enough to visit New York City during his first four months as the Teleprompter-in-Chief. But all that changed come "Date Night"--Barry's pledge to his average-looking wife to take her out every week...regardless of the economic crisis going on in the country that Barry hasn't come close to fixing, regardless if it's on the taxpayers dime:
His public schedule listed no official events, so President Obama had plenty of time to devote to being a weekend dad and spouse.

The president and first lady Michelle Obama watched daughter Malia's soccer game for an hour Saturday morning in the Palisades neighborhood, a short drive from the White House.

For the evening, the first couple jetted to New York City for date night. A Broadway show and probably dinner were on tap.

The White House refused to say how much the trip was costing taxpayers.

Even before the Obamas left Washington, the there-and-back trip drew criticism from Republicans. They questioned the president's decision to travel to New York for a night of entertainment during a recession and while automakers struggle to survive.

It was just a few months ago that auto executives were roundly criticized when they traveled to Washington for congressional hearings in pricey private planes.

The Republican National Committee issued a news release that chastised Obama for saying he understands American's troubles, but then hopping up to New York for "a night on the town."

Noting that General Motors is expected to file for Chapter 11 protection on Monday, the news release said: "Putting on a show: Obamas wing into the city for an evening out while another iconic American company prepares for bankruptcy."

In a statement read to the press, Obama said, "I am taking my wife to New York City because I promised her during the campaign that I would take her to a Broadway show after it was all finished."
This from the same guy who recently declared that we're in the worst crisis since the Great Depression. But hey, gotta please the wifey. And Americans are well aware that a Michelle Obama who doesn't get her way isn't a pretty sight.