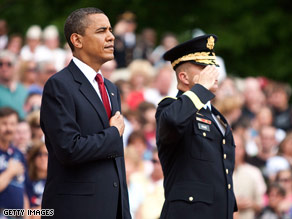 CNN.com:
Barack Obama marked his first Memorial Day as president on Monday, calling on Americans to remember U.S. troops who died in the service of their country and navigating a Civil War memorial controversy.

The president participated at the 141st annual Memorial Day wreath-laying ceremony at Arlington National Cemetery's Tomb of the Unknowns.

The men and women buried at Arlington "waged war so that we may know peace," Obama said.

"They were willing to give up everything for the defense of our freedom [and] were willing to sacrifice all for their country. ... They are the best of America."

Also Monday, Obama decided to continue a controversial presidential tradition of honoring Southern Civil War soldiers by sending a wreath to Arlington's Confederate Memorial, according to the White House.

But the president decided to start what may become a new tradition by sending a wreath to the African-American Civil War Memorial at Vermont Avenue and U Street Northwest in Washington.
Some are saying that the laying of a wreath honoring Black veterans was a "compromise," but screw that, Barry should've taken a stand here. The Confederate Memorial honors soldiers who took part in a war to preserve rights that included slavery. When Presidents take part in this tradition, they legitimize the Confederacy. 95% of Blacks voted for Obama in this past election, yet even after being elected Barry refuses to take on race matters in this country, while at the same time going out if his way to please his white, liberal base (overturning stem-cell research statutes, promising to close Guantanamo Bay, etc.) at seemingly every turn. By continuing to turn his back on his Black supporters, the first Black President comes off as nothing but a coward.