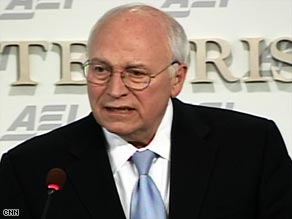 CNN.com
:
Former Vice President Dick Cheney defended the Bush administration's national security record Thursday, and argued that President Barack Obama is responsible for weakening the country's ability to combat al Qaeda and other extremists.

Cheney argued that the Bush administration "didn't invent" the authority exercised in the war against al Qaeda and others. He said it was clearly granted by the Constitution and legislation passed by Congress after the September 11 attacks.

He also said the use of controversial "enhanced interrogation techniques" was a success that saved thousands of lives.

At the same time, Cheney argued that Obama's decision to release Bush-era interrogation memos was a reckless and unfair distraction in the fight against extremists.
RELATED: Transcript of Dick Cheney's speech