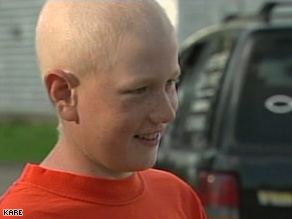 CNN.com:

A Minnesota judge issued an arrest warrant Tuesday for the mother of Daniel Hauser, a 13-year-old boy who is refusing treatment for his cancer, after neither she nor the boy showed up for a court appearance.

"It is imperative that Daniel receive the attention of an oncologist as soon as possible," wrote Brown County District Judge John R. Rodenberg in an order to "apprehend and detain."

"His best interests require it," Rodenberg wrote.

The judge had scheduled the hearing to review an X-ray ordered by the court to assess whether Daniel's Hodgkin's lymphoma was worsening.

The boy's father, Anthony Hauser, did appear at Tuesday's hearing, where he testified that he last saw the mother, Colleen Hauser, at the family's farm on Monday night, when she told him she was going to leave "for a time."

He said he did not know where they had gone.
This is a tough one to decipher. I mean, you're talking about parental rights here and I've always been of the belief that 18 is a fair line to draw in the sand of adulthood--till then parents are in charge, unless of course, there are factors of abuse or neglect in the household.
Daniel Hauser's parents
are expressing that their religious beliefs go against the use chemotherapy, but we've seen recent cases where a kid's life could've been saved if their parents had taken them to a hospital instead of using natural remedies (or worse cases "prayer") on their child. Plus, the founder of the group that the Hausers follow, the Nemenhah Band, once spent 4 months in jail for fraud related to advocating natural remedies. To me, this is a clear case of neglect on the parents part with the courts needing to intervene and do all they can to save young Daniel Hauser's life.