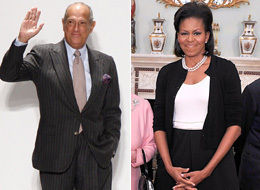 HuffPo:
While Michelle Obama has made lesser known designers like Jason Wu, Thakoon, and Isabel Toledo household names by wearing their labels repeatedly--the first lady has worn Jason Wu at least three times on her European trip alone--WWD asks where the love has gone for big name designers like Donna Karan, Calvin Klein, and Ralph Lauren. Bridget Foley writes that it would be a great boost to a fashion industry in economic crisis.

And it sounds like some designers are getting downright cranky.

Scroll down for excerpts or keep reading the password-protected story.

"American fashion right now is struggling," says Oscar de la Renta. "I think I understand what [Obama and her advisers] are doing, but I don't think that is the right message at this particular point....I don't object to the fact that Mrs. Obama is wearing J. Crew to whatever because the diversity of America is what makes this country great. But there are a lot of great designers out there. I think it's wrong to go in one direction only."

He also took a jab at the outfit the first lady wore to meet Queen Elizabeth: "'You don't...go to Buckingham Palace in a sweater.'"
Well, considering that Barack is a multi-millionaire, one can't help but wonder why he can't buy better outifts for the wife? Of course, the loot Barry could be spending on wifey could instead be on it's way to Martinigue, which would be understandable when you consider how stressful his job is, Barry is definitely have needs. But then Michelle's been catching a lot of flack from black designers as well, so who knows how much input Barry has in what wifey wears, much less who knows if Michelle is just clueless when it comes to fashion?