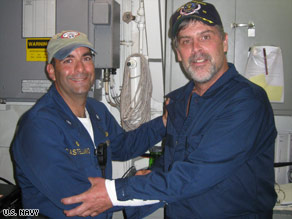 Looks like Barry did a good job here:
President Barack Obama twice authorized the military to rescue a U.S. captain held by Somali pirates and whose life appeared to be at risk, administration official said hours after Sunday's rescue.

The Defense Department twice asked Obama for permission to use military force to rescue Capt. Richard Phillips from a lifeboat off the Somali coast, most recently late Friday evening. On Saturday morning, Obama signed off on the Pentagon's request, as he had a day earlier, said officials who spoke on the condition of anonymity to discuss internal deliberations.

Somali pirates last week took the Maersk Alabama off the Horn of Africa. The crew fought back the pirates and reclaimed the ship, but Phillips was taken hostage aboard a lifeboat. Navy ships soon were on their way to the area.

A senior administration official said the president's order authorized force for a group of military assets that arrived at the scene late last week. When more resources arrived, Obama added them to a roster of military personnel allowed to engage militarily with the Somali pirates.

White House officials on Sunday said Obama received regular updates by phone and in person at the White House. The president was in the residence when officials called him to alert him the five-day standoff was over.

The White House soon released a statement praising Phillips' behavior.

"I share the country's admiration for the bravery of Capt. Phillips and his selfless concern for his crew," Obama said. "His courage is a model for all Americans."

It was Obama's first public comment on the situation. Administration officials said the president made an effort not to call attention to the hostage situation while it was ongoing. Officials said they didn't want to send mixed signals to the pirates or do anything that might threaten Phillips' life.
Hey, I have no problem giving credit to the Teleprompter-In-Chief when it's due and it seems that he handled this crisis pretty well. Props too to Capt. Richard Phillips for all his heroics and making it out in good health. Hey, Joe Biden warned us all that Barry would be tested early and so far he's been more than right.