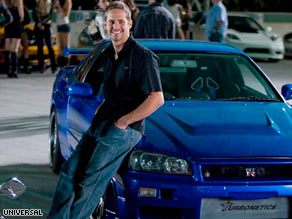 Wow:
In the first truly shocking box office result of the year, "Fast & Furious" sped away from expectations to gross a humongous $72.5 million, according to early estimates from Media by Numbers.

That result is effectively double what most industry observers had predicted for the debut of the fourth feature in Vin Diesel's car franchise, and it left in the dust a number of notable records:

- Best April opening ever, beating "Anger Management's" $42.2 million.

- Best Universal Pictures opening ever (three-day), beating "The Lost World: Jurassic Park's" $72.1 million.

- Best F&F franchise opening ever, beating "2 Fast 2 Furious'" $50.5 million.

- Best opening yet in 2009, easily beating the bows of the more-buzzed-about "Monsters vs. Aliens" ($59.3 million) and "Watchmen" ($55.2 million).

- Best opening ever for stars Diesel, Paul Walker, Michelle Rodriguez, and Jordana Brewster, as well as for director Justin Lin.

Oh, and let's not forget that it was the best opening ever for a car-themed movie! (Beating "Cars'" $60.1 million.) This outcome is impressive, indeed, something that has caught Hollywood by surprise and has the potential to really change things up -- like when summer-esque blockbusters are released (rarely does one open so early in the year) and like, you know, what everyone thinks of Vin Diesel.
I was a huge fan of the first F&F, but after Diesel didn't show up for the sequel (which wasn't that bad, unlike F&F3 which was just God-awful) I was shocked when I first saw previews showing that Vin was coming back for this installment. Granted, there isn't much to see in the theaters nowadays, but considering that you can't blame anyone for being extra-careful about what they pluck down their $12.50 (that's NYC for ya) for these days, but this is truly shocking.