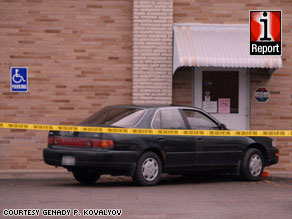 Since when did being blind make you dumb? When NY Governor David Paterson opens his mouth:
The American Civic Association's president, Angela Leach, was "very upset" and worried about her secretary, a friend at her home told reporters. "For some reason she had the day off today. She doesn't know anything, she's as shocked as anyone," said Mike Chanecka.

Others were left waiting for news of friends and relatives. Omri Yigal, an immigrant from the Philippines, said his wife Delores had been in an English lesson. "At this point, I know the scale of what happened, but I just hope Delores is okay," he said. "I haven't got any information. The only thing I have right now is hope."

The New York State Governor David Paterson said the shooting was "probably the worst crime and tragedy in the history of this city".
Yeah, surely worse than the 3,000-plus who died on Sept. 11, 2001, right Governor? Not that I'm trying to politicize this tragedy like the Left is doing, but Paterson has the kind of foot-in-mouth disease that would make Joe Biden blush and this was just another example of it.



UPDATE:

The story linked here was taken from a piece at LATimes.com which noted that Paterson said "history of this state". That original LATimes piece has now been corrected to show that Paterson actually said "city", not "state".