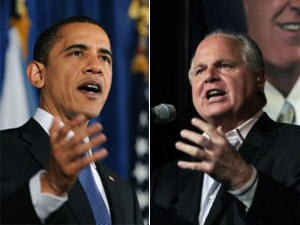 Newsmax.com
:
Seizing the offensive in his ongoing war of words with the Obama administration, radio giant Rush Limbaugh is challenging President Barack Obama to appear on his program "without a teleprompter" for a straightforward debate on issues important to the American people.

Limbaugh told his audience Wednesday that attacks against him are being orchestrated by Obama "flunkies" who are "feasting on their own arrogance."

"But I have an idea," Limbaugh said, "if these guys are so impressed with themselves, and if they are so sure of their correctness, why doesn't President Obama come on my show? We will do a one-on-one debate of ideas and policies. . . They're claiming they wanted me all along. They wanted me to be the focus of attention. So let's have the debate!

"I am offering President Obama to come on this program -- without staffers, without a teleprompter, without note cards -- to debate me on the issues. Let's talk about free markets versus government control. Let's talk about nationalizing health care and raising taxes on small business. Let's talk about the New Deal versus Reaganomics. Let's talk about closing Guantanamo Bay, and let's talk about sending $900 million to Hamas. Let's talk about illegal immigration and the lawlessness on the borders."
Of course, there's no chance Barry O will go on the most popular conservative radio talk show to debate any issues. Better to play it safe and diss Rush Limbaugh from afar, while having George Stephanopoulos, Chris Matthews, Keith Olbermann, Rachel Maddow and the rest of the idiots in the liberal press continue to kiss your ass while placating your socialist agenda to the American public.