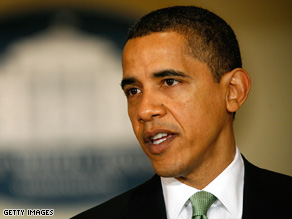 Judging from this latest Rasmussen poll, despite what Obama disciples like Jack Cafferty think, it looks like Americans are starting to regret voting for an inexperienced, community activist to be their President:
The Rasmussen Reports daily Presidential Tracking Poll for Tuesday shows that 37% of the nation's voters now Strongly Approve of the way that Barack Obama is performing his role as President. Thirty-two percent (32%) now Strongly Disapprove giving Obama a Presidential Approval Index rating of +5.

The Presidential Approval Index is calculated by subtracting the number who Strongly Disapprove from the number who Strongly Approve. It is updated daily at 9:30 a.m. Eastern. Updates also available on Twitter.

Overall, 56% of voters say they at least somewhat approve of the President's performance so far while 43% disapprove. Eighty-seven percent (87%) of Democrats offer their approval while 75% of Republicans voice disapproval. Those not affiliated with either major party are evenly divided.
Now this is change we can believe in.