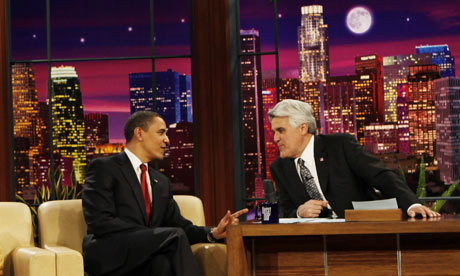 So Barry O, the first sitting President to appear on "The Tonight Show", tried to make fun of his bad bowling skills last night by taking a swipe at the Special Olympics:
President Obama

seemed relaxed and in good cheer tonight during his appearance on "The Tonight Show with Jay Leno." But there was one misstep that surely made his advisers wince.

Leno asked the president whether the White House bowling alley had been "burned and closed down" in light of Obama's gutter ball embarrassment on the campaign trail last year.

Obama replied, "No, no. I have been practicing . . . I bowled a 129."

The audience roared with laughter, and the late-night talk show host assured Obama "that's very good, Mr. President." To which Obama interjected, "It's like -- it was like Special Olympics, or something."

The audience laughed. But the White House didn't let the comment linger without clarification.
The reaction from his pals in the press to this completely inappropriate comment seems to be pretty mild so far, but he's Obama, so of course with the mediots he can do no wrong. My guess too is that BO's teleprompter must have been malfunctioning in order for him to make such a lame joke, yet you just know that if George W. Bush had said the same thing, people be lashing out more. Maybe Barry O needs to quit trying to be a celebrity and start acting like a President.
By the way,
Kolan McConiughey
, a Special Olympics competitor from Michigan, has bowled three perfect games of 300. Yes he can!